In Michigan, many regions are experiencing a child care crisis as part of a larger, national issue. Due to many factors, some exacerbated by the pandemic, there's a lack of workers and centers to serve families. We spoke with child care centers and professionals throughout Ann Arbor, Detroit, and Port Huron on the current situation, and possible solutions to the shortage.
In Ann Arbor
The nonprofit Child Care Network (CCN) in Ann Arbor has been serving eight counties in Southeast Michigan since 1971. CCN provides support for child care providers and families with young children. CCN acts as the southeast regional resource center for Great Start to Quality, and provides consultation to child care providers, training, lending libraries with resources, and more. 
Annette Sobocinski, CCN's executive director, says Washtenaw County has 283 licensed child care programs. She says while that number did decrease by a little over 30 providers in the last two years, not all were impacted solely by the pandemic. While this slight decrease in programs has occurred, Sobocinski says the lack of employees is the bigger issue.
"There are many licensed centers that, if they had the staffing to support it, they could open additional classrooms to make room for additional children in their programs," she says. "There's just a lack of staff in the field of child care and early childhood, which is really hurting the industry and hurting the availability for families."
The number one reason for the lack of child care workers and early childhood providers is low wages. Salaries for early child care providers versus a kindergarten teacher are vastly different, says Sobocinski, despite being essentially the same job. The industry is also competing with fast food and retail, which pay higher wages. Compensation for child care staff does not reflect the demands of the job, says Sobocinski. 
"As we try to professionalize the field and make child care high-quality, there's an increase in requirements. So for somebody who's teaching four-year-olds, they're required to have a bachelor's degree," she says. "The credentials of what's required is higher, but the pay hasn't gotten any higher to match."
Moving forward, Sobocinski hopes the industry can start recruiting staff members earlier in their lives, even in middle school and high school. But that requires higher compensation. 
"Many child care workers don't even earn enough to be able to afford child care or other things for their own families," she says. "A lot of child care workers are on public benefits, because they don't make enough to be able to fully care for their own families."
"We have a system where it's just kind of broken because parents are expected to cover the cost, but the cost is not sufficient to be able to pay the staff what they really are worth in the critical work they're doing," she adds.
To help with this, Sobocinski suggests more public investment and is hopeful that new opportunities coming from the federal government through the Michigan Department of Education can ideally help support some recruitment, and better compensation. 
"Right now, we're in dire straits," she says. "It's a very challenging time to be a child care provider and to be an early childhood staff member."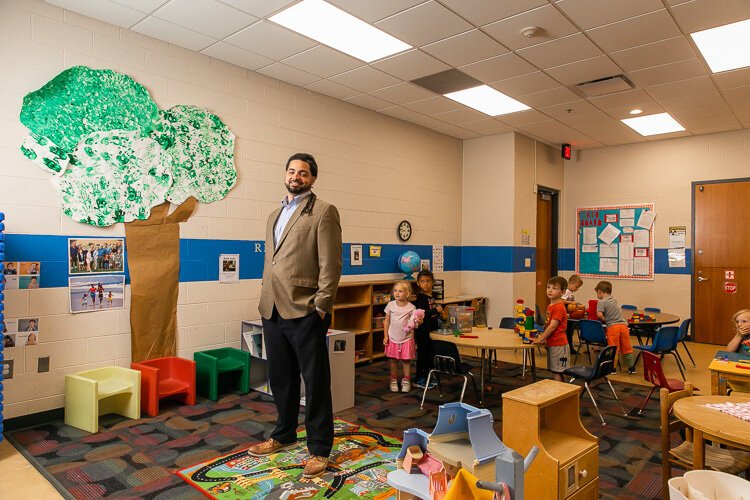 Josh Chapman sees the significant barriers to expanding child care options. Photo: David Lewinski.
In Port Huron
Josh Chapman, president and CEO of the YMCA of the Blue Water Area, works to allocate resources for child care directors and lead teachers, and to provide support for all families. 
Chapman says the child care crisis has a cascading effect that's being impacted by COVID-19 in industries around the world. 
"Locally, in St. Clair County, we've lost a significant amount of providers," he says. "Child care, by nature, is a very lean organization. There's not a lot of margin and significant overhead, so I think there's a misconception in the public sometimes, because it costs so much individually, that the operators or owners are reaping lots of money. That is certainly not the case."
Without capital, Chapman says, many child care centers were unable to "ride out the storm" in the early days of the pandemic. The second issue, according to him, is "red tape" regulation. 
"To open new child care centers, it's very prohibitive by the state because it's very difficult to do from a licensing perspective," Chapman says. "There's all of these complications to get the license. It's expensive, it's time-consuming, and on top of that, for a lot of the centers that have very lean margins, they don't have the upfront capital to make these investments and get this stuff done. The state really makes it so challenging that no one wants to participate. No one wants to open up new child care centers. They love working with kids, they love helping develop kids' potential, but it's a really hard space to get into."
Chapman also sees low wages as a barrier. Raising rates could price families out of child care, though. 
"It's a really vicious cycle, and that's just the tip of the iceberg," he says. 
For Chapman, a possible solution to the crisis is the implementation of a universal pre-kindergarten model. 
"I think the two biggest pieces would be subsidies provided by the state, either to underwrite the cost of care to quality providers, incentivizing businesses to subsidize, or fully offer a universal pre-K model, and then invest capital both from a financial perspective but also educational infrastructure," he says.
Without capital, child care centers would be forced to take out loans to open up more centers, resulting in bankruptcy or cutting corners. 
"Child care is one of those things that's kind of like being a pilot," Chapman says. "You don't want your pilot to cut a corner, you don't want your barber to cut a corner, and you don't want your preschool to cut a corner. The end result of that is not good."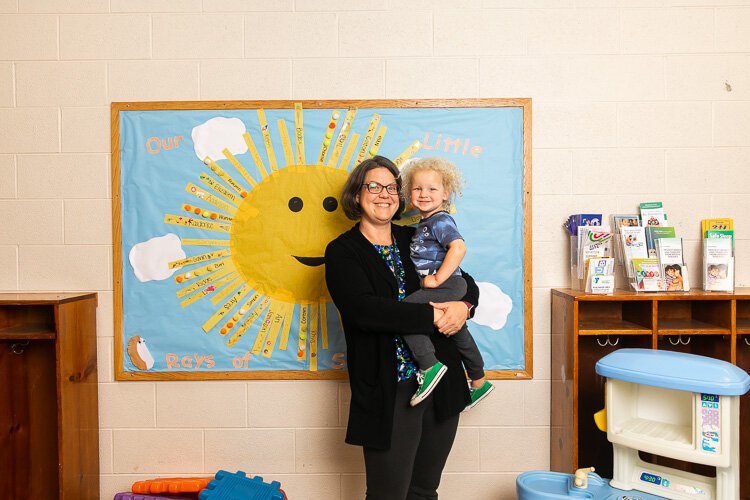 Meghann Porada directs the early childhood development program at the YMCA of the Blue Water Area. Photo: David Lewinski.
In Detroit
Krista McClure, director and founder of Detroit Parent Collective and Free Thinker School in Detroit, works daily to ensure a supportive community for families in the 48221 ZIP code. The collective began as a co-working space offering onsite child care in the heart of Detroit, says McClure. It's since evolved to include a licensed child care program in January 2022. The intention of both models is to bring people together across social, economic, racial, ethnic, gender, and other societal divides. 
"One thing we discovered during COVID is that we could be beneficial for families who work remotely, those who need a space where they can actually drop their children off at child care while they work," she says. "That was our intentionality around the launch of the licensed child care program, Free Thinker School."
For the Free Thinker School model, McClure says, "the quality of care for children isn't just solely dependent on the educators providing care to them, but the community that really uplifts and supports them."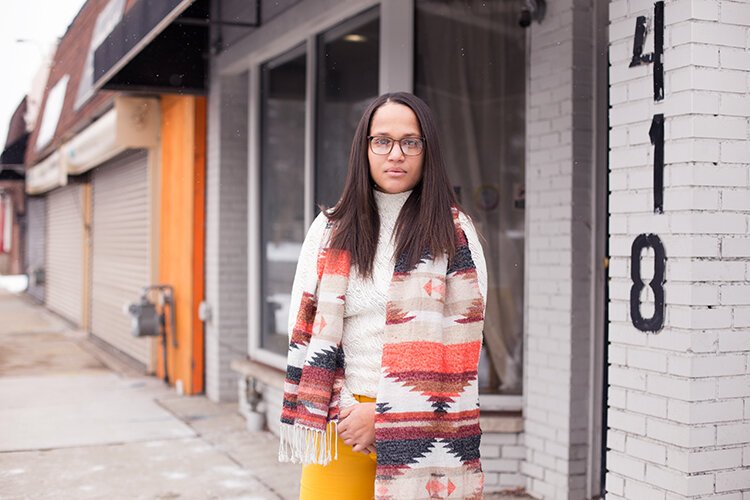 Krista McClure. Photo: Joe Powers / Insitu Photography.
Supporting staff is extremely important to McClure, despite the nationwide and statewide crisis of low wages in the industry.
"The gap in the salary between someone who might be working in early elementary versus early childhood, like a preschool or kindergarten classroom, can look like anywhere between $15,000 to $20,000," she says. "The average pay per hour for child care providers in the state of Michigan is $9.53. That is less than $24,000/year. We are asking for early childhood educators to really be the backbone of the economy by providing care for families, so that families can get back to work, and yet we're paying them low wages."
Through the Detroit Parent Collective's blended model, operating with multiple revenue streams, McClure says she is fortunate to have a nonprofit and an LLC. The collective generates revenue, but is also able to apply for federal grants and philanthropic funds.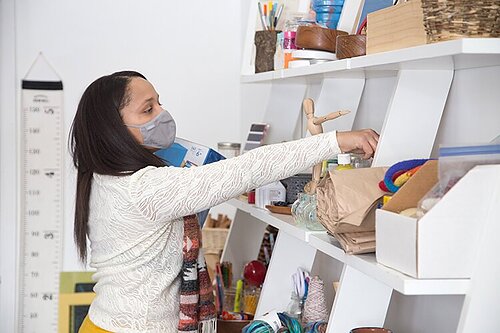 Photo: Joe Powers / Insitu Photography."My revenue stream is a bit different than in typical child care centers. That does allow me to pay my staff anywhere between $25 and $39 an hour," she says. In total, the school has three employees, with two more starting later this month. 
With a sliding tuition scale ranging from $312.50/month to upwards of $1,000/month, McClure says families are paying an average of $750/month, compared to $1,200/month for similar models, and a $600/month subsidized price. The school's application is transparent about the fact that families may be asked to pay additional tuition in order to help other struggling families. This in-house subsidy reflects the organization's mission to create an inclusive space, both in racial diversity and socioeconomic status. 
By creating an ecosystem of families, some in close proximity to their children, Free Thinker School utilizes a unique approach that's increasingly in demand. 
"We are a unique and diverse model, but we are undercutting the market for families," McClure says. "We're shifting what education and early childhood look like."
McClure hopes to create a toolkit for future centers and educators looking to adopt this blended model of child care. 
"There are folks that are directly connected to the community that they live in, that I believe can take this model, adopt it, implement it, and be rolling with it themselves," she says. "That is what my immediate and long-term goal is."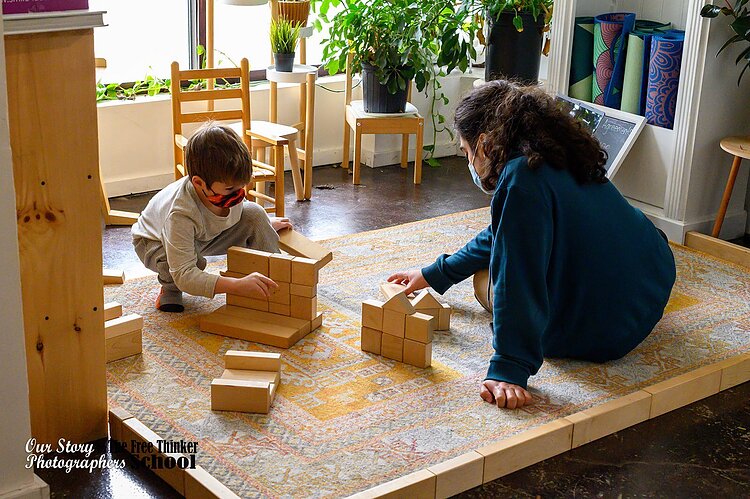 Photo: Our Story Photographers.